The Mayan Calendar is a powerful tool to unlock the potential of one self, discover answers to WHYs in partnerships relationship and get closer to the glimpses of the codes that hold our universe together.
That´s what you get from the course:
a deep understanding and consciousness on how you and other operate
a meaningful philosophy for your brightest light to shine
a deep understanding of family constellations and relationships
course materials: Descriptions of 20 kins and 13 tons, the Maya Calendar compass, working sheets for natal charts and 13 days cycles
deep insight into the kins and tones and their relation to each other
how to use it for your personal life
how to use it on a daily basis
how to use the calendar for a year-long forecast
how to use it for relationships and groups (like family)
Next course starts in November (in German). More information will come soon and in person the 29th of Oct. in Vienna.
Registrations are open via email (see below).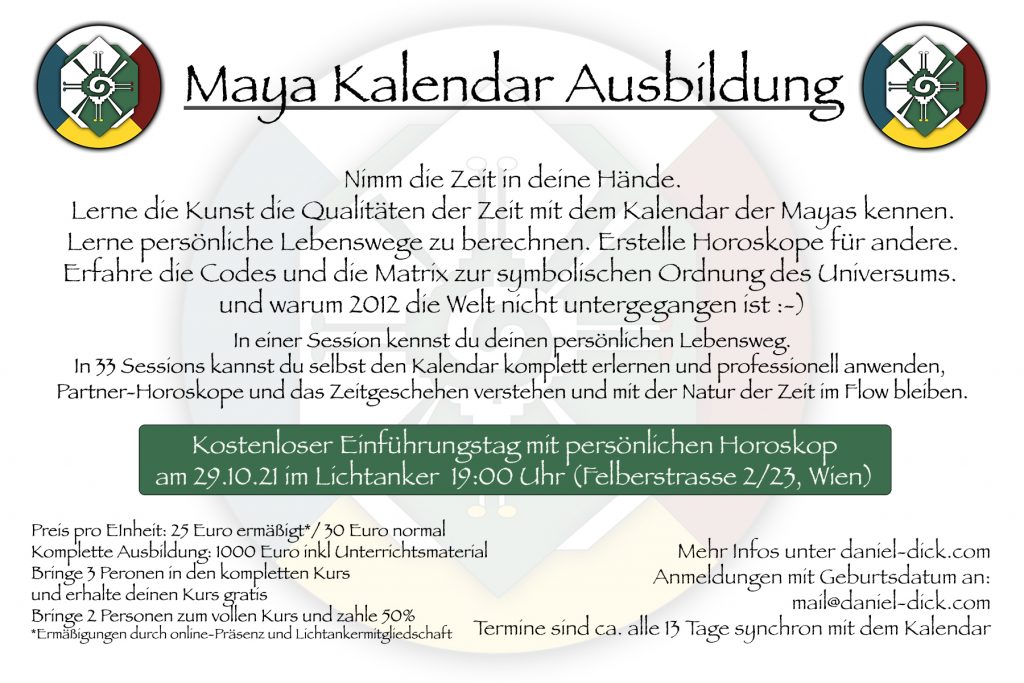 "Daniel hat mir wertvolle Inputs gegeben und mich daran erinnert, mit welchen Lebensbereichen und Schattenthemen ich mich noch tiefer als bisher auseinandersetzen darf, um mehr Fülle in mein Leben ziehen zu können. Dafür bin ich ihm sehr dankbar. Während der Session schuf er einen Raum, in dem ich das Gefühl hatte, ich werde gesehen! Danke!"
Aleksandra
"DARAN GLAUBEN IST OPTIONAL
DABEI MITMACHEN OBLIGATORISCH
Eigentlich ist das ein Zitat, was sich im richtigen historischen Kontext auf den Kapitalismus bezieht, jedoch bringen es genau diese wenigen Worte perfekt auf den Punkt.
Zwar ist es illusorisch zu glauben, man könne damit präzise in die Zukunft sehen, doch erlaubt die Verständnis des Mayakalenders ein bestimmtes Maß an Orientierung in der Welt. Ähnlich wie wenn man die Großwetterlagen vor einem ausgedehnten Wanderausflug berücksichtigt.
Und wer auch davon nichts hält und das Spiel des Lebens gerne momentweise spielt, der wird nach Verständnis des Mayakalenders zumindest öfters schmunzeln müssen, weil die Komik der Göttlichen Komödie für einen selbst etwas augenscheinlicher wird."
Lorenz

Hier sind die nächsten Termine der 20 Energien:
06.11 Brücke zwischen Welten (eigentlich 5.11.)
18.11. Sturm
01.12. Mensch (nur online)
14.12. Schlange
27.12. Spiegel (nur online)
09.01. Affe
22.01. Samen
04.02. Erde
17.02. Hund (nur online)
02.03. Nacht
15.03. Krieger
28.03. Mond
10.04. Wind (nur online)
23.04. Adler
06.05. Stern
19.05. Drache (nur online)
01.06. Magier (Mittwoch in Person)
14.06. Hand
27.06. Sonne (nur online)
10.07. Himmelswanderer (nur online)
August Sommerpause
Termine mit den 13 Tönen folgen noch.
Auch im 2 Wochen Abstand ab September.
Anmeldung zum Einführungstag und/oder Ausbildung